Rea Magnet Wire occupies a unique and challenging space for a brand. As an unquestioned leader in its market – many, many people know the name, but a lot less know what exactly it is they do – or, for that matter, everywhere they do it.
That's where we came in.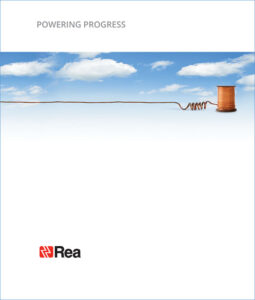 Recently, the team at Rea found itself with this unique challenge, wanting to clearly communicate the full scale and scope of its global reach to leaders at its core customers around the world. And, naturally, it wanted to do so in a concise and beautifully designed package can be even harder.
Our new corporate positioning for Rea serves as a transparent, comprehensive corporate report to these key stakeholders while telling the full story – the past, present and, most importantly, the future. This positioning offers insight into their current initiatives, their plans for the future of their business and the various ways they are working to be the best choice as a business partner for existing and prospective customers. It also provides a transparent view into Rea's unique company culture, evidencing teamwork and trust as their core values.
Rea's goal with their corporate positioning was to reinforce its position as a company key stakeholders can trust, with in-demand products, that also aligns with their personal values. Rea Magnet Wire wanted to ground their status as all of these, and strengthen their relationship with customers in the process. From the Magnet Wire Capital of the World (that's Fort Wayne, by the way), we're proud to partner with one of the industry's great brands to tell their story.