For the recreational vehicle industry, the National RV Trade Show each year in Louisville is a Really. Big. Deal. And we were excited to once again help our friends at Freightliner Custom Chassis Corp. stand out in a Really. Big. Way.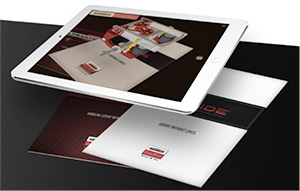 The National RV Trade Show is a prime and important opportunity for FCCC to demonstrate its latest products and promote coaches coming to market in 2017 built on its luxury diesel chassis. For this year in particular, Freightliner had two objectives: 1) showcase their impressive new innovations and technology exclusive to FCCC; and 2) introduce the new messaging they're gearing towards in 2017: "Backed by Daimler. Grown in Gaffney. Driven by You." – the three pillar statements encompass the foundation, history and mission of FCCC.
Months of conceptualizing, planning and teasing the launched through trade publications and select events led us to bring this year's booth to life. This included a 360-degree virtual reality experience that gave viewers a lesson on the detail, comfort and convenience of FCCC, as well as a hands-on interactive display to unveil the new Key FOB capabilities. We also had some thematic fun – some Daimler engineering in the form of a 2016 Mercedes Maybach next to some American muscle in the form of "Problem Child," a 1970 Plymouth GTX painstakingly restored by an FCCC employee. Both were huge draws to the booth – and the VR and interactive displays kept them there.
In addition to the comprehensive booth presence itself, we generated awareness of and excitement through trade advertising in the show-preview issues of industry publications, as well as dedicated public relations and social media efforts. Overall, the show was another huge success for FCCC, helping ensure it hits 2017 at full speed.